Viera Residences redefines lifestyle standards
Quezon City is one of the few central business districts in the Philippines that continue to brim with energy and activity. While urbanites in the area thrive in the progressive metropolis, there are also premium places here that serve as relaxing hideaways where busy professionals and start-up families can unwind and bask after a long day.
One such hideaway and nature-rich oasis in the middle of the bustling city is the Viera Residences being developed by Triple-A property builder DMCI Homes. The 27-storey condominium development carries its developer's trademark resort-style living proposition that combines a familiar experience of home as well as sophistication, all nestled in nature's tapestry.
The residential development is ideal for young professionals and start-up families who want to grow in health, wellness and comfort despite their dynamic lifestyles. With the condominium's developer on-track in its construction, Viera Residences is scheduled to be completed in 2018.
"We are happy to note that we have already sold 66 percent of Viera Residences' total inventories even before the model unit has been launched," remarked Merlin Yu, Project Development Officer of DMCI Homes. "Viera Residences is another milestone in our portfolio of quality condominiums that focus on the needs and wants of the market. Every element of Viera Residences' plan: location building features, and amenities, had been carefully considered to perfectly suit the leisure, lifestyle, work and recreational needs of its homeowners," she added.
Viera Residences offers spacious units and well-engineered cuts to provide the finest abodes for those who wish to uplift their outgoing lifestyles. Its unit offerings of one- and two-bedrooms come at larger-than-the-usual cuts, with 27.50 to 45 square meters for the 1-bedroom units and 48 to 81 square meters for the 2-bedroom units.
Prices and availability of offerings are subject to change without prior notice.
Aside from quality-crafted units, the development also boasts of wide open spaces with lush tropical greens. Its superior amenities have effectively been combined with outdoor amenities such as a lounge pool, lap pool, kiddie pool, children's play area, gazebos and cabanas, sky garden and activity lawn.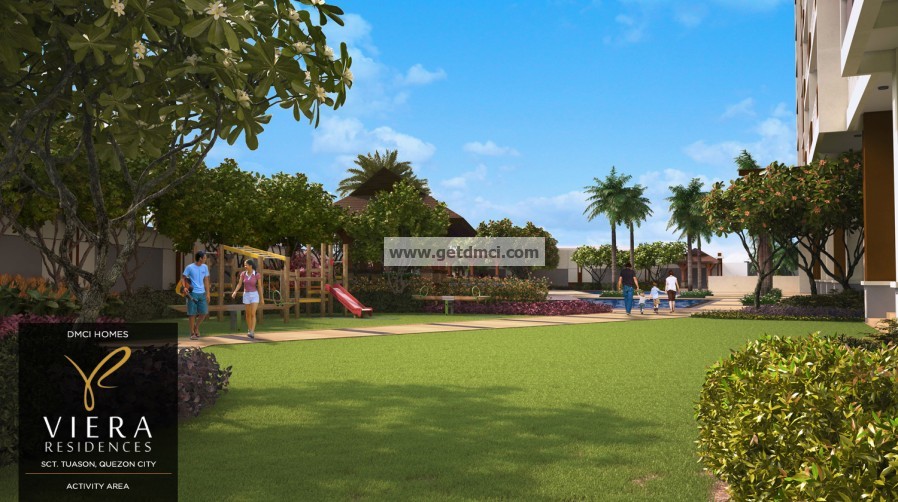 Indoors, there will also be a fitness gym, game area, audio-video room, lounge area and sky lounge with a function room. Other building facilities include a laundry station, convenience store, water station, grand lobby and a guarded entrance for optimum security.
Just like all DMCI Homes' condominium developments, a superior feature of the Viera Residences is its green building architectural design, Lumiventt, which permeates natural light and breeze to flow generously throughout the residential building. This is achieved through the central garden atrium and the sky patios found in every five floors that also give residents ample views of the vibrant city, sunrise and sunsets, and experience healthy gushes of wind.
Yu also highlighted the development's prime location which puts it at the heart of the conveniences of the city. "Quezon City is a go-to place. Our location is right in the middle of four major areas in Quezon City: South Triangle, New Manila/San Juan, Cubao-Araneta and Sta. Mesa, Manila. Viera Residences is also along commercial, business and leisure centres, and we're accessible to major roads such as Quezon Avenue to A. Roces, Tomas Morato, Timog, and E. Rodriguez. All these plus the relaxing environment make Viera Residences a perfect hub to promote a healthy work-life balance, as well as fitness and wellness."
Despite having all the makings of a high-class condominium, Viera Residences still comes at an affordable price. "That's what DMCI Homes is known for," noted Yu. "It's part of our development principle to offer quality homes, lifestyle propositions that are relevant to peoples' needs, and value for money."
Source: www.dmcihomes.com